$1 Billion Liquidated as Bitcoin Price Crashes by $1.4K in Minutes;
Decentralized Exchange Volumes Rose 174% in July, Topping $4.3B and Setting Second Straight Record;
3 Reasons Why Ethereum Price Rallied 75% to Hit a 2-Year High at $400;
Accused of Spreading a FUD Zeus Capital Doubles Down on Chainlink Pump and Dump Claims;
Ethereum Won't Give Its USD 4bn DeFi Throne to EOS, Tron Anytime Soon;
🗞 Daily Crypto Calendar, August, 2nd 💰
Welcome to the Daily Crypto News: A complete Press Review, Coin Calendar and Trading Analysis. Enjoy!
Bitcoin price suddenly crashed by roughly $1.4K in minutes to $10,600 and rebounded slightly as weekend volatility continues.
The price of Bitcoin (BTC) and Ethereum's Ether (ETH) plunged by 13% and 21%, respectively, within minutes on Aug. 2. The move liquidated more than $1 billion worth of futures contracts as BTC/USD dropped from around $12,000 to as low as $10,550.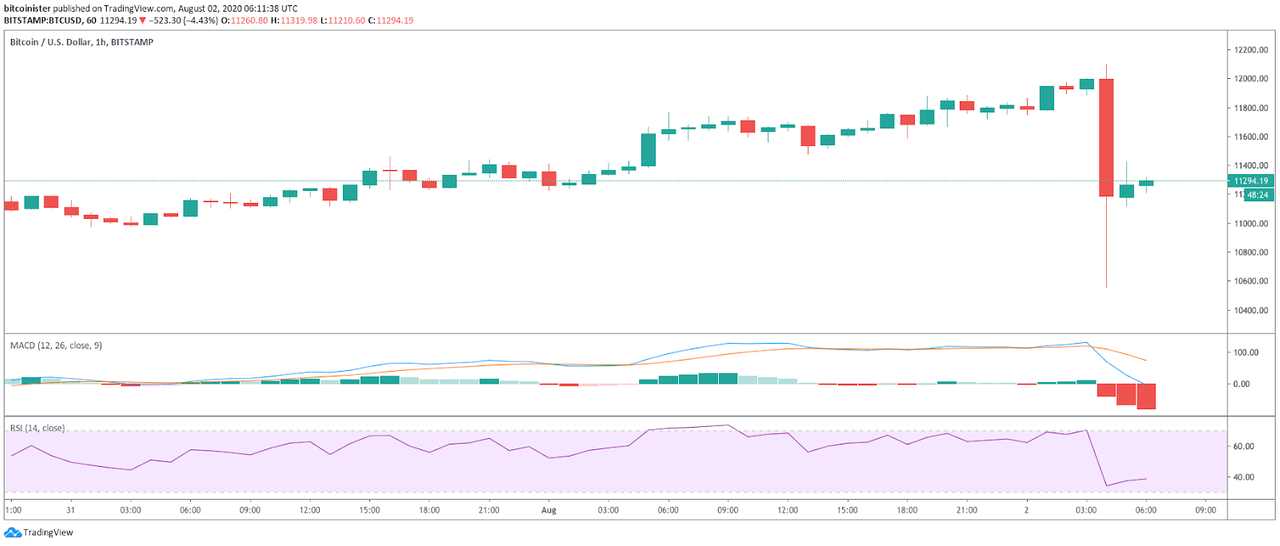 There appear to be two main reasons behind the sudden cascade of liquidations. First, the volume in the cryptocurrency market tends to drop during weekends. Second, the market was heavily swayed to longs or buyers.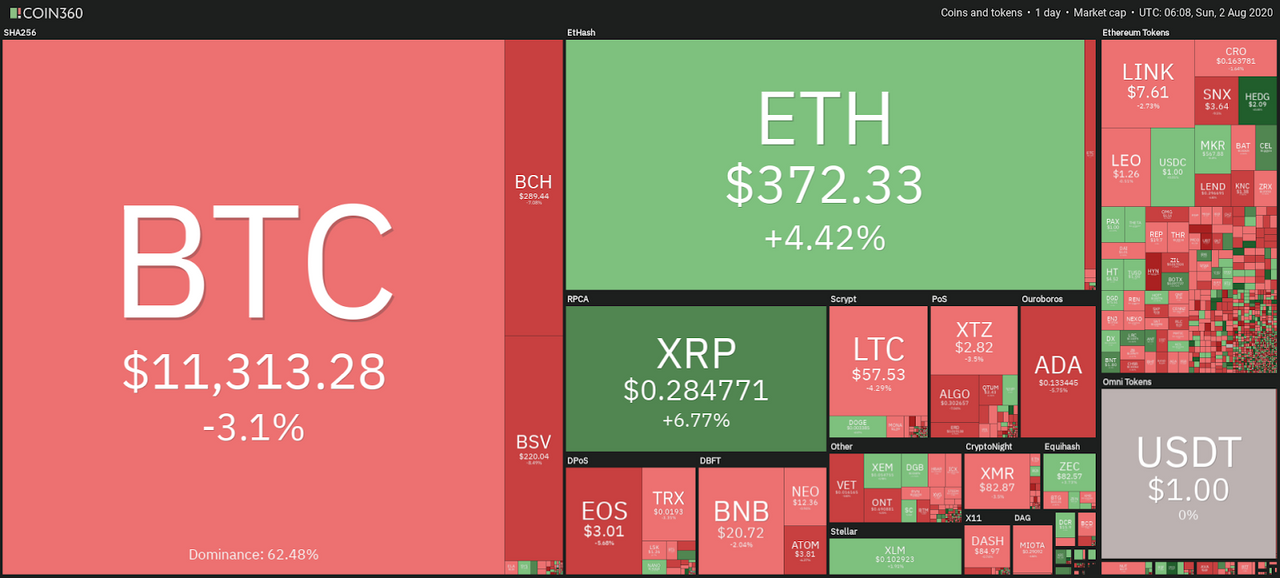 Surprise weekend move hits the crypto market once again
The cryptocurrency market tends to see large liquidations during the weekend. The liquidity often drops as there are fewer active traders in the market. Lower volume leads to massive price movements, as cryptocurrencies become more vulnerable.
Aggregate trading volume on decentralized exchanges reached $4,32 billion in July, up from $1.52 billion in June.
41% of July's volume came from Uniswap, on which traders speculate on assets ranging from "a better Bitcoin" to a coin named after fried chicken.
CoinDesk previously reported trading volume topped June's record part way through July.
"Decentralized finance has exploded over the past couple months. We've seen the largest use cases as trading, and borrowing and lending," said Kyle Davies, co-founder of Three Arrows Capital. "I expect this trend to continue."
In the last two weeks, Ether (ETH) price increased by 75% as the price rallied from $222 to $400. Many investors believe Ether's momentum is buoying the entire market, and possibly even pushing Bitcoin (BTC) upwards.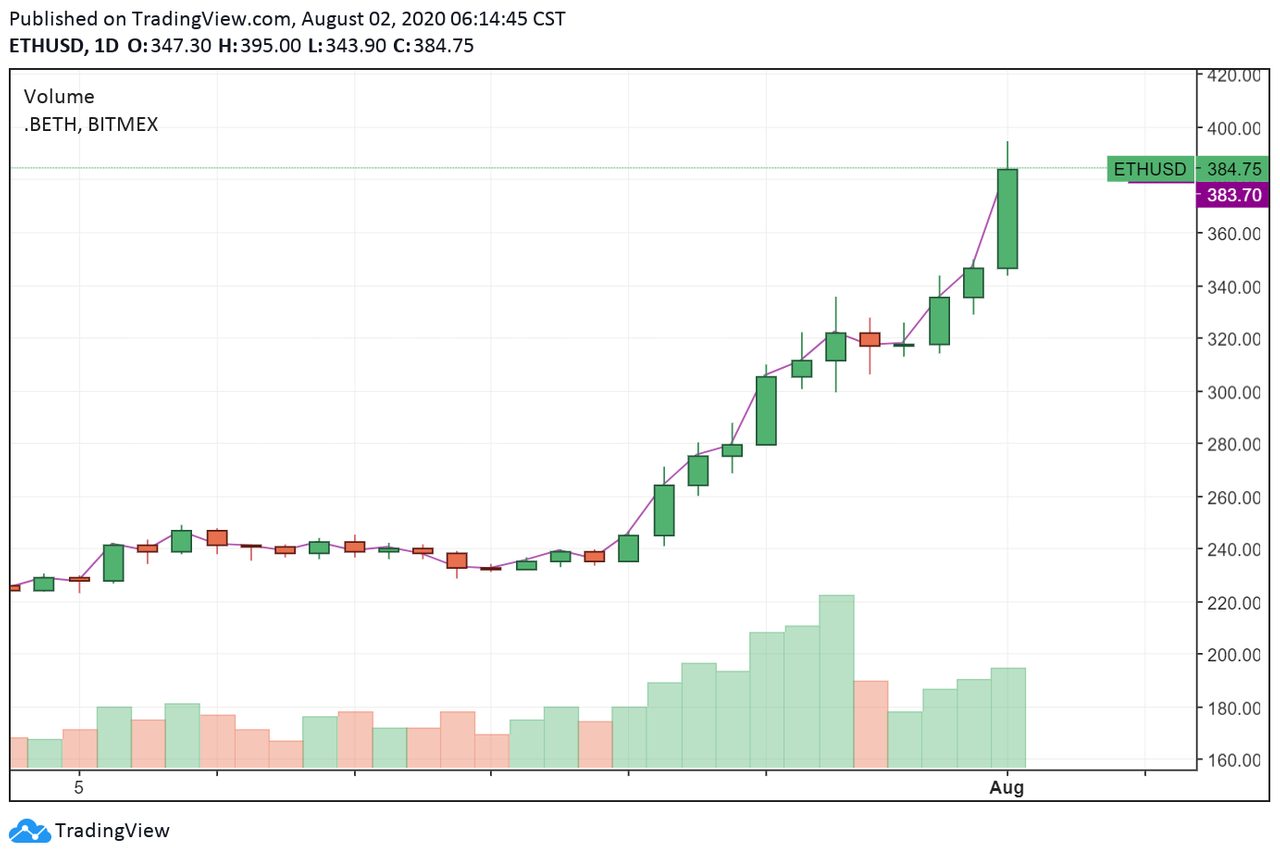 DeFi growth is pumping altcoins but there are bearish signs
Since mid-June, the total value locked in decentralized finance (DeFi) protocols has continuously surged. The launch of protocol-specific tokens, like Compound's COMP as an example, led to growing demand for DeFi.
ETH 2.0 bolsters Ether's momentum
A consistent positive factor that supports the upward momentum of Ether is the anticipation for ETH 2.0. In August, Ethereum developers expect to launch the final testnet of ETH 2.0 called Medalla.
Altcoin season continues
The Ether and Bitcoin rally over the last three days coincided with a drop-off in altcoin prices. In the near-term, the cycle of profit taking could continue if altcoins see regular uptrends.
Zeus Capital LLP has released a new report reiterating its earlier stance that Chainlink is a giant pump and dump scheme.
This new report comes after the little known asset management and research firm took a flak for attacking Chainlink's token in an earlier report.
In what it now terms part 1 of its exposé, Zeus Capital LLP asserts in the latest report that the over 140 partnerships announced by Chainlink so far are an exaggeration. The asset management firm contends the project has been created to enrich the founders.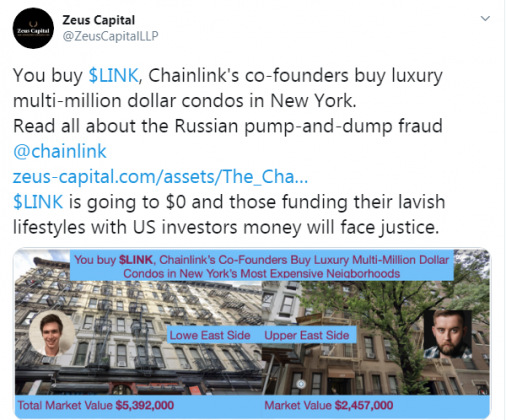 Meanwhile, Zeus Capital LLP's list of allegations against Chainlink includes pay-for-play schemes, a plethora of integrations with "dead" projects as well as "outright lies about the size and type of the relationships."
The asset management firm also accuses industry-leading outlets of "deliberately or unintentionally playing their role in the process."
Ethereum has the first-mover advantage, as it has had at previous times in crypto history.
Tron and EOS are certainly trying to eat into Ethereum's dominance.
The transition to Ethereum 2.0 may enhance Ethereum's dominance even further.
The king network rules DeFi
Ethereum is by far and away the dominant DeFi blockchain. Taking data from DeFi Pulse and DeFi.Review, it would seem that it accounts for 90%-99% of the total value locked into DeFi platforms.
Looking at DeFi Pulse, all but one of the 36 DeFi platforms it tracks are based on Ethereum (the other one is Bitcoin (BTC)). Of the USD 4 billion currently locked into these 36 platforms, all but USD 11.5 million of this total is on Ethereum.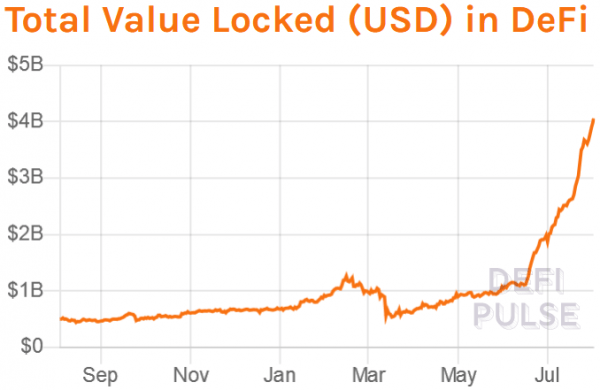 Early in July, Tron founder Justin Sun announced the launch of three Tron DeFi projects, including a "JUST Lend" credit platform. Meanwhile, EOS announced the launch of the xNation platform in April, working in partnership with Bancor (BNT).
🗞 Daily Crypto News, August, 2nd💰

"MBL Holders will our announcement on August 3rd"
BCD halving / halvening at block 630,000, which is expected to take occur on August 3rd at 16:52.
"#LINK to be Listed on #LBank Trading Pair: LINK/#USDT… Trading Open: 16:00 on August 3, 2020 (UTC+8)"
Last Updates


➡️ Be paid daily to browse with Brave Internet Browser
➡️ A secure and easy wallet to use: Atomic Wallet
➡️ Publish0x
➡️ UpTrennd
➡️ Read.cash
➡️ Minds
➡️ Hive
➡️ Twitter
➡️ Facebook