Welcome to the Daily Crypto News: A complete News Review, Coin Calendar and Analysis. Enjoy!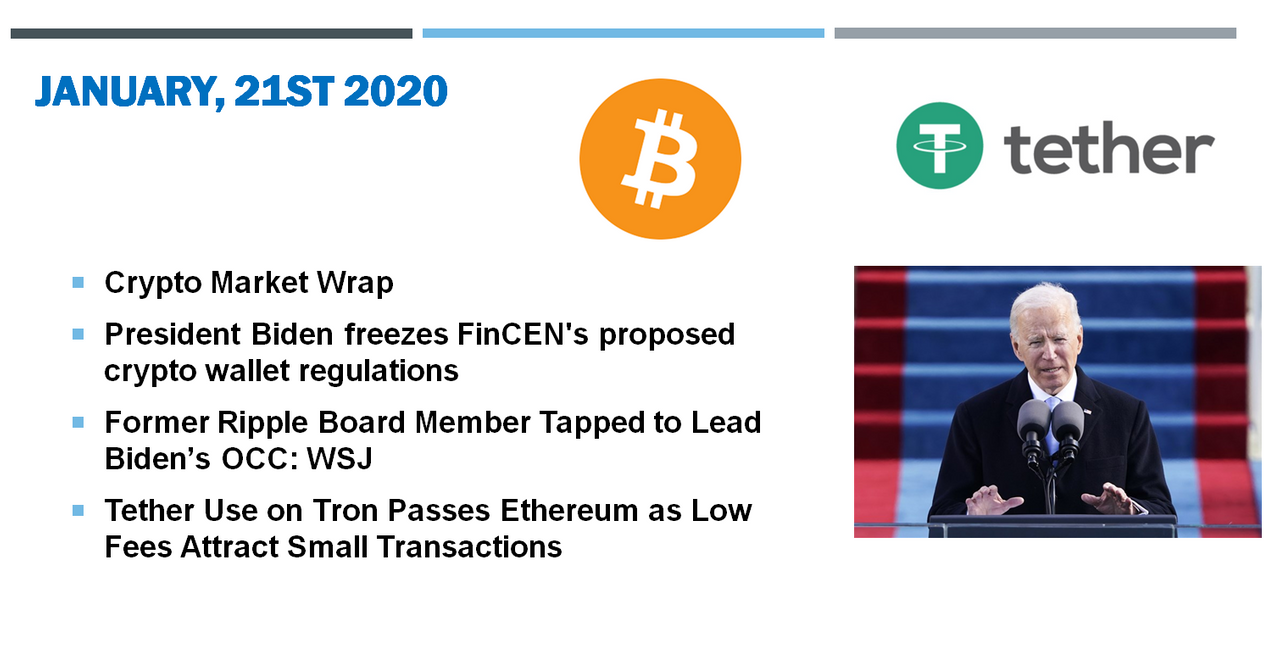 Bitcoin is recovering from a steady price decline while ether options traders anticipate another high-water mark after it hit an all-time high of $1,439.
Bitcoin (BTC) trading around $35,023 as of 21:00 UTC (4 p.m. ET). Slipping 4.1% over the previous 24 hours.
Bitcoin's 24-hour range: $33,430-$36,794 (CoinDesk 20)
BTC above the 10-hour but way below the 50-hour moving averages on the hourly chart, a sideways signal for market technicians.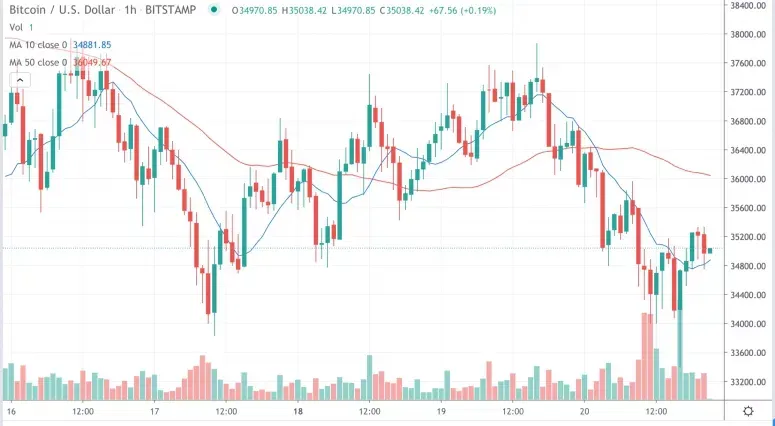 Bitcoin's price fell Wednesday, going as low as $33,430 around 15:00 UTC (10 a.m. ET), according to CoinDesk 20 data. It's been a long and mostly downward direction for the price. The world's oldest cryptocurrency was at a high of $36,794 just 24 hours ago. It fell over $3,300 before picking up somewhat, at $35,023 as of press time.
Constantin Kogan, partner at crypto investment firm Wave Financial, has a bearish outlook, anticipating a fall to at least $30,000. "This is where the bulls will begin to actively buy back. If we pass this mark it might drop to almost $26,000," he told CoinDesk. "According to a Bank of America survey, long bitcoin has become the busiest type of trade."
Kogan dubbed Wednesday's crypto spill "a small squeeze." A squeeze in the derivatives market certainly occurred over the past 24 hours. Jan. 19's long liquidations, which included early Asian hours trading leading into Wednesday's market, totaled $121 million. "Liquidations" is the equivalent of a margin call in crypto whereby a leveraged trader's position gets wiped out.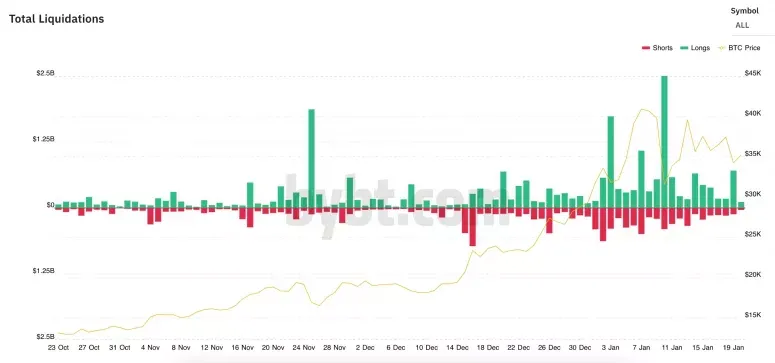 With a new U.S. president, inaugurated Wednesday, bringing a new set of policies – including an expectation of more fiscal stimulus – traders may be getting optimistic that more dollars flooding into the economy might bring about higher crypto prices. The bitcoin market overall is still in bull mode; less than a month ago, the spot price per 1 BTC was below $25,000.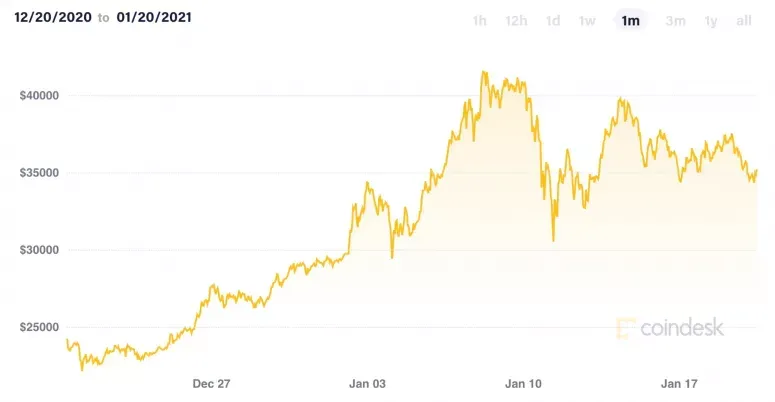 Options traders like calls on ether
Ether's price also declined Wednesday, though not by as much as bitcoin's. In fact, current-day options orientation in the ether market heavily favors calls, according to Skew. Call options are the right, but not obligation, to buy an asset at a set price and time. Calls are currently dominating those options, 66% versus 34% for puts, which are contracts giving the right, but not the obligation, to sell.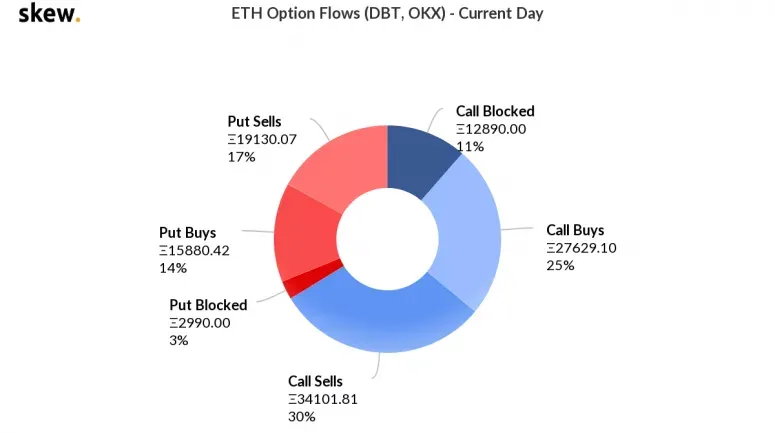 One of the first actions President Joe Biden has taken on his first day in office is to freeze Federal regulatory process, including the controversial self-hosted crypto wallet regulations proposed by former Treasury Secretary Steven Mnuchin.
The announcement came in a White House memorandum for the heads of various federal agencies, the Financial Crimes Enforcement Network (FinCEN) included. The edict doesn't specify the crypto wallet proposal, but places a general freeze on all agency rulemaking pending review, effective for 60 days from the date of the memorandum.
Crypto industry insiders have lauded the move with Compound Finance General Council Jake Chervinsky stating;
"We fought hard & earned the right to take a breath & reset. Janet Yellen isn't Steve Mnuchin. I'm optimistic."
Michael S. Barr, a former U.S. Treasury Department official and onetime member of Ripple's board of advisers, is likely to become the next Comptroller of the Currency, the Wall Street Journal reported Wednesday.
If named and confirmed by the U.S. Senate, Barr will succeed Brian Brooks, the former Coinbase executive who served as Acting Comptroller for the last half of 2020. Barr is currently a dean at the University of Michigan Ford School of Public Policy. The news comes days after Politico first reported that Barr was under consideration, alongside law professor Mehrsa Baradaran.
Barr was part of the Barack Obama administration's Treasury Department, where he worked on bank regulations in the form of the Dodd-Frank Act, the Journal reported. Barr did not immediately return a request for comment.
The number of tether transactions on the Tron blockchain have passed Ethereum's count for three consecutive weeks as fees on the number two blockchain remain high.
Total weekly tether transactions on Ethereum have held steady at around 1.5 million for the past four weeks. But on Tron, transactions per week have grown from roughly 900,000 in mid December to nearly 2 million the second week in January, per Coin Metrics data.
This recent trend is "primarily because of fees," said Coin Metrics analyst Nate Maddrey in a message to CoinDesk.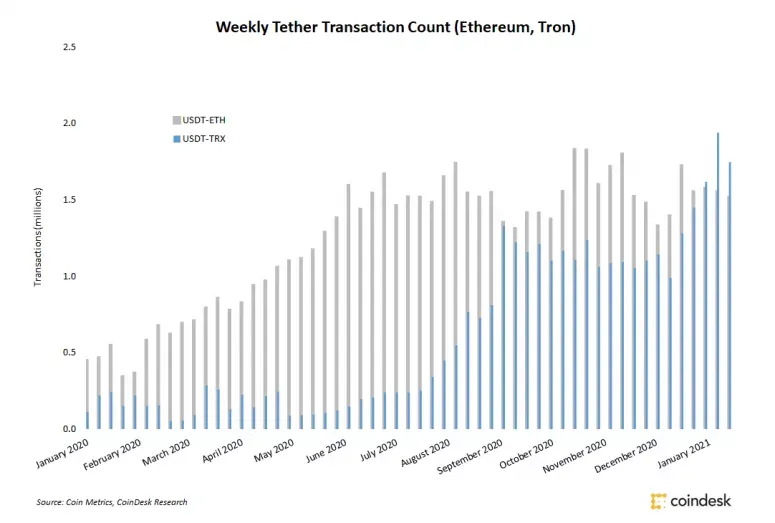 "Lately, given the increased cost of Ethereum transactions, it would be logical to use Tron," said Tether CTO Paolo Ardoino, noting the newer blockchain also has "good adoption across crypto exchanges" and is "extremely cheap compared to Ethereum."
Tron isn't the only alternative for tether users. In the past two years, Tether has also launched on Algorand, Solana and Liquid Network with plans for even more integrations, Ardoino said. But which network claims the largest share of Tether transactions is still somewhat of an open question.
🗞 Daily Crypto Calendar, January, 21st💰

NWC token integration (NWC: credit swap), smart alerts & widgets, crypto gaming, community price predictions…
"The Stellar Development Foundation Quarterly Review for Q4 & 2020 is on January 21 and 12:00PM EST."
FastSwap (FAST), Toshify.finance (YFT)
"We are happy to announce that FastSwap v1.0 will be going live on 21 January 2021, 16.00 UTC."
"Scheduled (Jan 21, 2021, 18:00 UTC): Hedera will be upgrading the Testnet to v0.11.0 (release notes: hedera.io/release-notes) on…"
Wabi CEO sharing updates and announcements. Twitter @alex_taelpay.


➡️ Youtube
➡️ Twitter
➡️ Hive
➡️ Publish0x
➡️ UpTrennd
➡️ Read.cash
➡️ LBRY
➡️ Spotify
➡️ Be paid daily to browse with Brave Internet Browser
➡️ A secure and easy wallet to use: Atomic Wallet
➡️ Invest and Trade on Binance and get a % of fees back
➡️ Check out my video on Unstoppable Domains and get 10$ off a 40$ domain purchase
➡️ Get 25$ free by ordering a free Visa Card on Crypto.com using this link or using this code qs4ha45pvh