Welcome to the Daily Crypto News: A complete News Review, Coin Calendar and Analysis.
Enjoy!
As it is Saturday, no Daily Crypto News Video but below are the most important news of the day
Have a great weekend.
Ether moving out of DeFi
The price of bitcoin hit new 2020 highs as the "alternative to gold" narrative increases. Meanwhile, smaller crypto tokens might be helping push DeFi to new heights.
Bitcoin (BTC) trading around $18,638 as of 21:00 UTC (4 p.m. ET). Gaining 3.5% over the previous 24 hours.
Bitcoin's 24-hour range: $17,723-$18,813 (CoinDesk 20)
BTC above its 10-day and 50-day moving averages, a bullish signal for market technicians.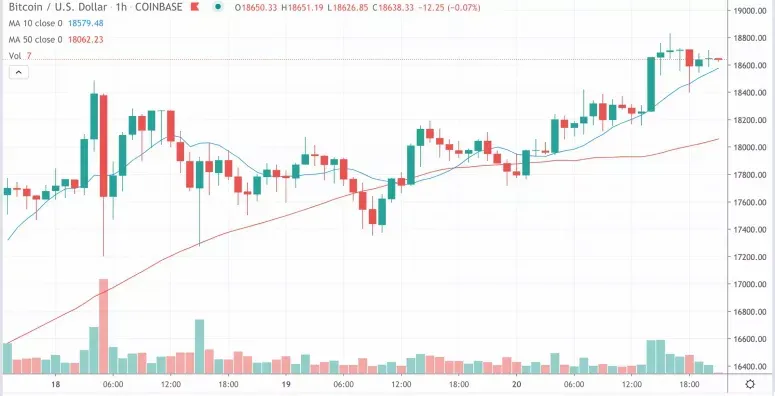 Despite any cooldown that may occur, bitcoin is certainly hotter than gold so far in 2020, with bitcoin up 147% year to date versus the yellow metal's 22% performance.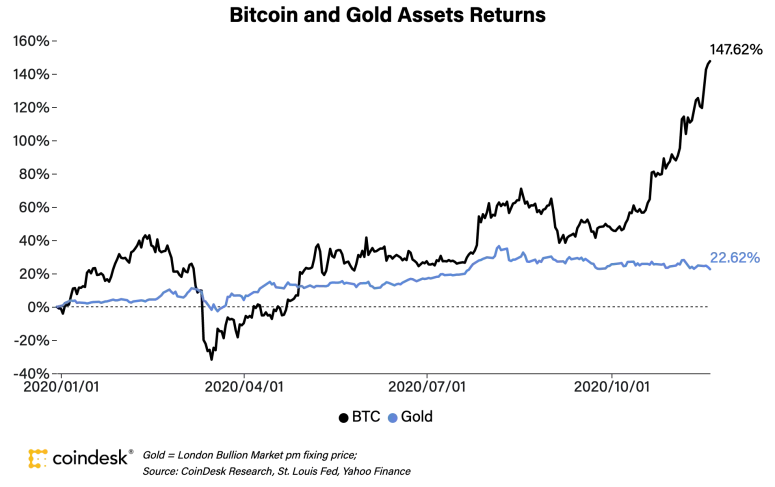 In the derivatives market, options traders are betting on some bitcoin uncertainty for December expiration. Traders expect a 54% chance of bitcoin staying over $18,000, a 44% chance of $19,000 per 1 BTC and a 35% chance of $20,000.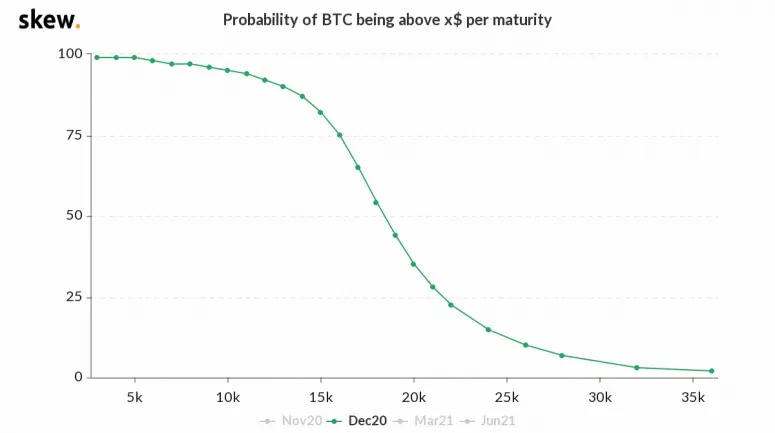 TVL in DeFi going up, but not from BTC, ETH
The total amount of cryptocurrency "locked" (TVL) in decentralized finance, or DeFi, has passed $14 billion for the first time, at $14.1 billion as of press time.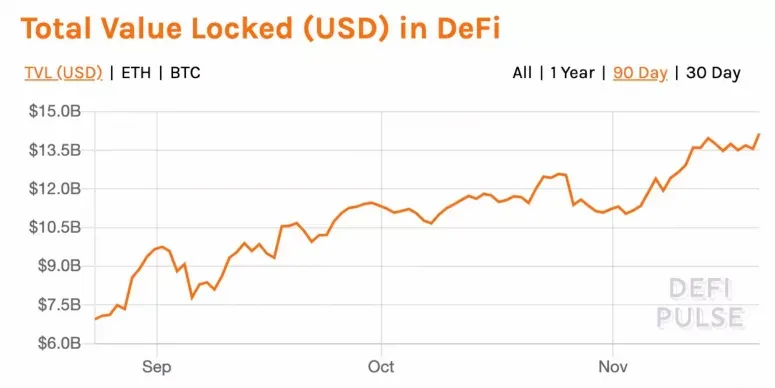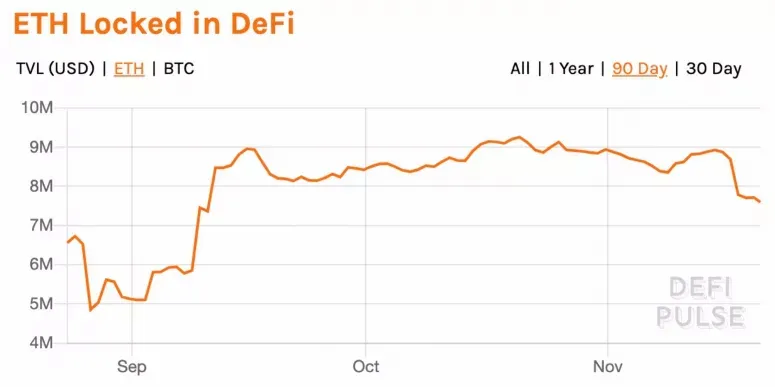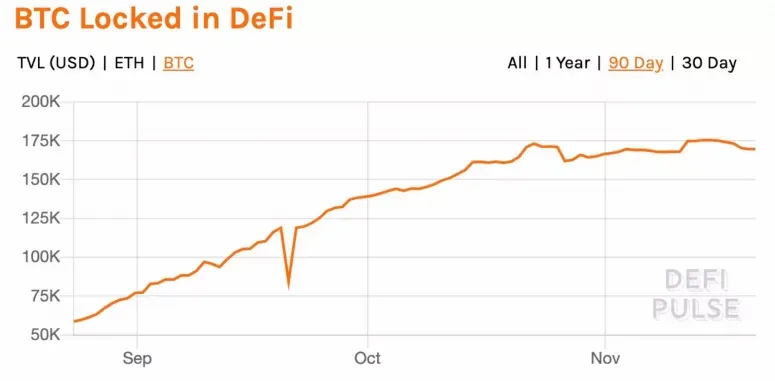 It seems that smaller tokens are seeing major gains along with BTC and ETH, likely contributing to TVL gains, although as of press time DeFi Pulse did not respond to a request for comment on how it accounts for those tokens in its metrics.
The OCC's announcement points to political hot-button issues that banks have systematically denied services to, including oil and gas companies in Alaska as well as Planned Parenthood.
Speaking to the media, Brooks noted the bipartisan nature of many of these bans: "These things are not politically partisan, but there are all kinds of attempts that we've seen to politically weaponize the banking system." He continued: "There is a creeping politicization of the banking industry that has the potential to be very dangerous."
Brooks told Cointelegraph:
"There is no place within the United States where crypto is illegal, but there are different licensing requirements for companies involved with businesses so obviously if a bank was banking one of those businesses, one of the things that bank would look at as part of its diligence is whether that exchange or other business had the relevant approvals in that state."
Settle Network and Stellar have created two stablecoins for the Latin American market.
The ARST is tied to the Argentine peso, while the BRLT is tied to the Brazilian real.
The stablecoins should make remittances between the two economies easier.
In a world where banks can make international transactions very slow, if not downright difficult, blockchain technologies can provide a safe, fast, and efficient alternative for sending money. However, the volatility associated with cryptocurrencies makes them a little scary for most of the world's population.
The announcement for the stablecoins was made on November 19 during Stellar's Meridian conference.
But why create stablecoins of currencies as damaged as the Argentine peso and Brazilian real, which respectively lost 30% and 20% of their value relative to the dollar in the past year?
The chief decision maker for where BlackRock, the world's largest asset manager, invests its funds said bitcoin could take the place of gold to a large extent because crypto is "so much more functional than passing a bar of gold around."
Speaking during CNBC's Squawk Box on Friday, BlackRock CIO of Fixed Income Rick Rieder responded to a question asking if governments might try to regulate bitcoin (BTC, +2.59%) if its price keeps rallying.
"I think cryptocurrency's here to stay, I think it is … durable," he said.
Alongside central banks developing digital currencies, millennials' "receptivity" to technology and cryptocurrency "is real, digital pay
"Do I think it's a durable mechanism that … could take the place of gold to a large extent? Yeah, I do, because it's so much more functional than passing a bar of gold around," Rieder said.
🗞 Daily Crypto Calendar, November, 21st💰
"SINOVATE (SIN) is delighted to confirm that the AURORA mainnet upgrade will go-live at block height 550,000 (taking place around 21 Nov…"
"Over the next 2-3 weeks, we'll be refreshing our website, showcasing our updated brand, and beginning AskoLend marketing."
"We anticipate sharing a list next week of all those supporting the migration and instructions on what to do…"
"Meet #TrueFi: Uncollateralized Lending by @TrustToken | Our most ambitious project launching Nov 21″
"CEL/BTC, CEL/ETH trading will be effective on November 21, 2020."
Last Updates
➡️ Be paid daily to browse with Brave Internet Browser
➡️ A secure and easy wallet to use: Atomic Wallet
➡️ Invest and Trade on Binance and get a % of fees back
➡️ Youtube
➡️ Twitter
➡️ Hive
➡️ Publish0x
➡️ UpTrennd
➡️ Read.cash
➡️ LBRY
➡️ Check out my video on Unstoppable Domains and get 10$ off a 40$ domain purchase
➡️ Get 50$ free by ordering a free Visa Card on Crypto.com using this link or using this code qs4ha45pvh