Welcome to the Daily Crypto News: A complete News Review, Coin Calendar and Analysis.
Enjoy!
Bitcoin is turning bullish Thursday while ether futures open interest sticks around $1 billion the past month.
Bitcoin (BTC) trading around $11,537 as of 20:00 UTC (4 p.m. ET). Gaining 1.5% over the previous 24 hours.
Bitcoin's 24-hour range: $11,249-$11,543
BTC above its 10-day and 50-day moving averages, a bullish signal for market technicians.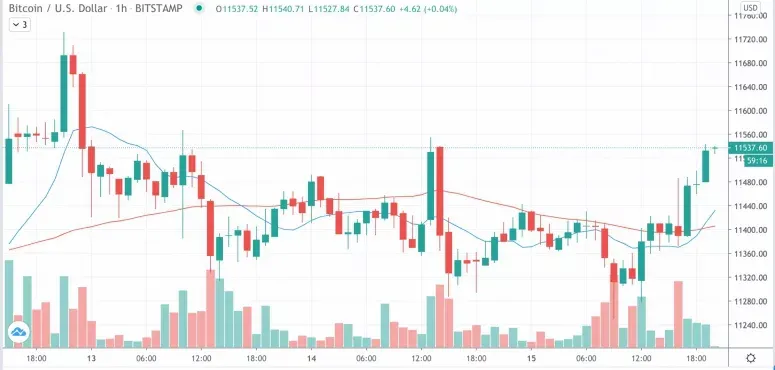 "There is significant resistance past $11,400," Tu told CoinDesk. "It may be that we fail to stay above $11,500 and begin to range from $10,500-$11,400." With the exception of a quick bounce to as high as $11,730 on Oct. 13, bitcoin has been in $11,400-$11,500 territory most of the past week.
BItcoin is trouncing traditional investment hedges such as gold and even silver. While gold is up 26% in 2020 and silver has gained 35%, bitcoin has climbed 57%.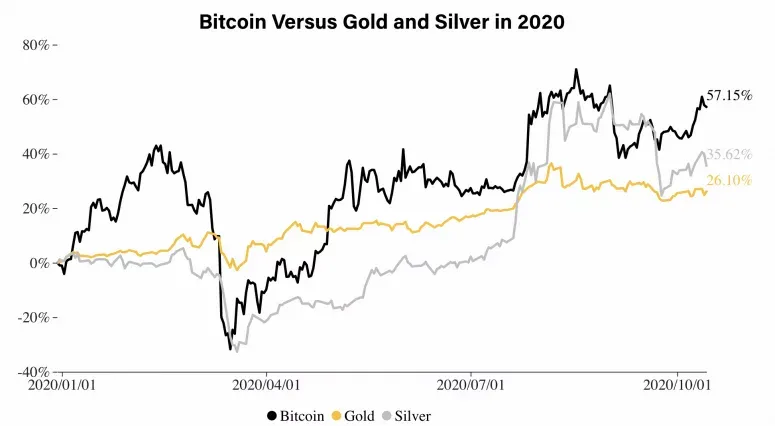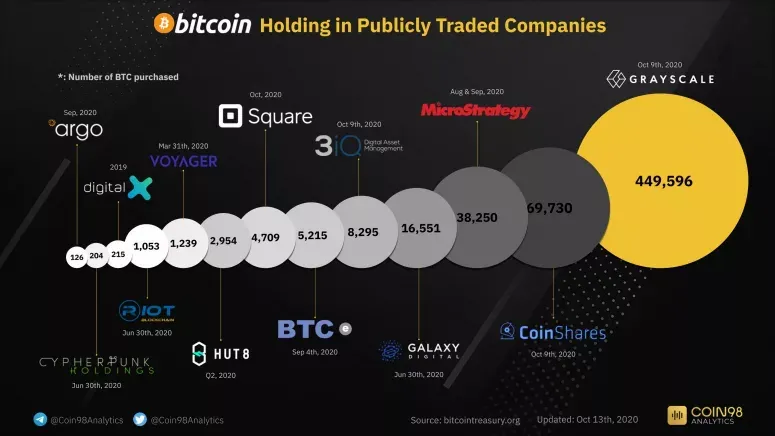 Ether futures flatten
The ether futures market has stagnated in the past month, hovering around $1 billion in open interest per day after hitting record numbers on Aug. 15 and Sept. 1, when it briefly surpassed $1.7 billion.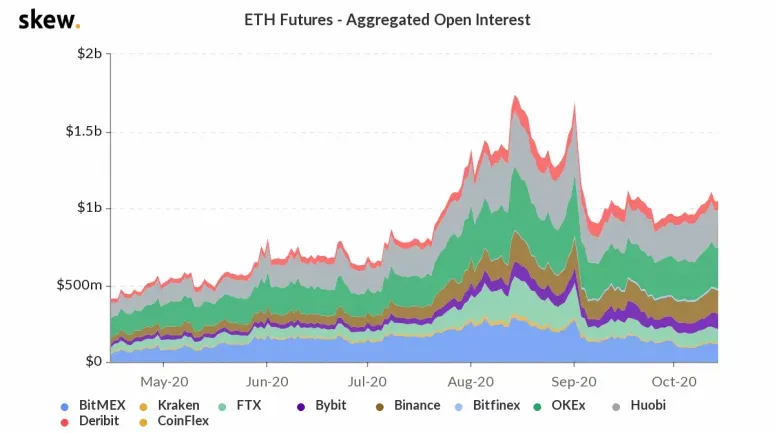 Major exchange OKEx suddenly suspended crypto withdrawals while one its key custodians cooperates with an investigation, shaking the crypto markets
Major crypto asset exchange OKEx has suspended cryptocurrency withdrawals, announcing that one of the holders of its private keys is "currently cooperating with a public security bureau" concerning ongoing "investigations."
The exchange noted that it has been "out of touch" with the key-holder, preventing the "associated authorization" from being completed. OKEx plans to resume digital asset withdrawals "immediately" once the key-holder "is able to authorize the transaction."
Citing its terms of service, OKEx said it had decided to suspend withdrawals but added that the security of its customers' assets "will not be affected" by the events.
"The Chinese government is cracking down on money laundering using cryptocurrency for telecom fraud, and centralized exchanges are in a very dangerous state."
Nearly 2,000 Robinhood Markets accounts were hacked in a recent series of attacks that stole customer funds, an indication the infiltration was more pervasive than previously believed, Bloomberg reported, citing a person with knowledge of an internal review.
According to the company's statement at the time of the hacks, the attacks were said to have affected only a "limited" number of clients..
Despite the company's statement at the time blaming the attacks on the victims' personal email accounts being compromised, several victims told Bloomberg they found no evidence this happened.
In addition, several victims said they'd already used two-factor authentication, something Robinhood was advising the individuals who'd been hacked to set up, Bloomberg said.
The Filecoin network pivoted to mainnet at block 148,888, or approximately 14:44 UTC. With that, its FIL tokens will begin their distribution.
Filecoin is a system from Protocol Labs meant to be both a decentralized file storage and content distribution network in one. The Filecoin team wrote in a post announcing the transition the block number for mainnet launch signifies "prosperity for life" in Chinese, chosen "to honor the epic contribution by our Chinese mining community to Filecoin's long-term success."
The new token is very likely to make history as the fastest newly live blockchain to reach a market capitalization of over $1 billion, though we can't really know until the FIL tokens enter trading.
CoinList leads
CoinList's Scott Keto contends the first market to actually have FIL tokens available for purchase will likely be CoinList Pro.
🗞 Daily Crypto Calendar, October, 16th💰
"Update: VPN is being released friday."
Algorand (ALGO), Arweave (AR), Blockstack (STX), Chainlink (LINK), General Event (CRYPTO)
REDEFINE Summit online from 12 – 5 PM (PST).
"The $EGLD stake & $CNTR rewards will be automatically distributed by 16 October 09:00 UTC."
"The team is targeting next Friday, the 16th of October, for the launch of the next Liquidity Generation Event."
"The Q4 distributions will be distributed on or about October 16th, November 16th, and December 16th."
"#AMA Series FCM x @TheSandboxGame… Time: 16th October ,6PM GMT+7″
"Start: 4pm UTC Friday 16th October 2020."
Last Updates
➡️ Be paid daily to browse with Brave Internet Browser
➡️ A secure and easy wallet to use: Atomic Wallet
➡️ Invest and Trade on Binance and get a % of fees back
➡️ Youtube
➡️ Twitter
➡️ Hive
➡️ Publish0x
➡️ UpTrennd
➡️ Read.cash
➡️ LBRY
➡️ Check out my video on Unstoppable Domains and get 10$ off a 40$ domain purchase
➡️ Get 50$ free by ordering a free Visa Card on Crypto.com using this link or using this code qs4ha45pvh