One of my Favorite platform in crypto, Binance.
This article was made for those who want to know the basics of Binance Futures.
This will be the start of a series of my Binance Tutorial. I will start with its user interface. I'll make it as detailed as possible. This is intended to someone who wants to start their future trade.
So let's jump to the main topic. 😁
---
There are Four Types of trading under the Futures Tab: USD-M, COIN-M, 

USD-M: The margin needed to start a trade here is in USDT. It also offers a borrow feature if ever you don't have any usdt in your account.

For example you have BTC and you don't want to convert it to USDT but still want to try Futures Trading, you can use your BTC as a collateral and Binance will lend you USDT. (I don't recommend borrowing)
COIN-M: This type is the same as USD-M, but the margin used is your preferred coin(not usdt). So instead of borrowing, you can now use your coin as margin.

 

** Take note that in COIN-M you can only open a position based on your available coin. For example you have BCH in your wallet, the only pairing you can trade will be BCH/USD only. While in USD-M, you can use any available pairing you preferred to trade.
Options and Battle: I wont elaborate much about this two, I might create separate article for this. 😉
---
The COIN-M & USD-M User-Interface
Interface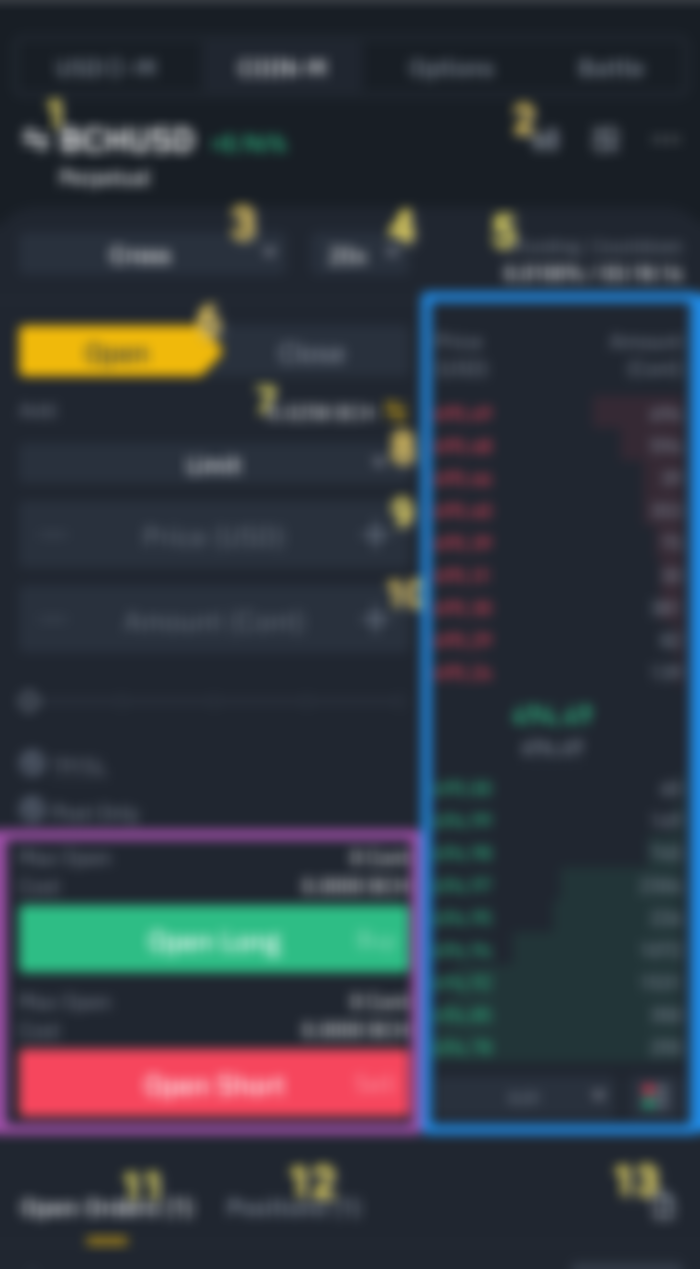 COIN-M interface
Trading Pair: Click this button to change your desired pairs. In this example I chose BCH/USD.

Chart: Click this button to view the trading chart of the current pair. There are also built-in tools available.

Margin Mode: Choose between Isolated and Cross. In Isolated margin, your entered margin will be the only one used to calculate your liquidation price. You can add or remove margin to adjust the liquidation price of your position. While in Cross margin, the whole asset will be used to calculate your liquidation price.

Leverage: This will multiply your margin. The higher the leverage, the higher will be your profit and also your loss. And the higher your leverage, the riskier for your position to get liquidated in case of unfavorable market because the liquidation price will be so near to your entry price. (Important to set a stop-loss)

Funding Fee: Every 8 hours (8am, 4pm and 12mn PH time) there will be a funding fee that will be deducted. For example your position is opened for too long, there will be fees that will be charged to our futures wallet.

 

But sometimes you will be paid, instead of being charged. If funding is positive and your position is Long, your will be charged. If your position is Short, you will earn that fee. If negative and you are in Long, you will earn instead of being charged a fee.

Open/Close: Choose open if you want to open a position. You may or may not used that Close button because there will be a close button in your positions tab.

Available funds: You will see here your total funds in your Futures Coin-M wallet. You can also click that button to transfer funds frrom spot to your futures wallet.

Order: I'll focus more on Limit and Market order. Choose Limit if you want to specify the price of the coin where you want to start a position. Choose Market if you want to instantly start the position with the current market price of the coin.

Price: If you chose Limit, you can type here your specific price of the coin. The position will be activated if that price will be reached. If you chose Market, you will not see this Price textbox.

Amount: You can type here the contract size of your position. The cost of your position will be depend on how much contract you openened. You can click the + and – button or the slider below to adjust the amount. Take note NOT to use a 50 to 100% of your funds in a single position.
11.Open orders: All the inactive positions will go here, for example you chose Limit entry. Your stoploss and take profit orders will also go here. In my example below, I have an open order of Take Profit in my exisiting position.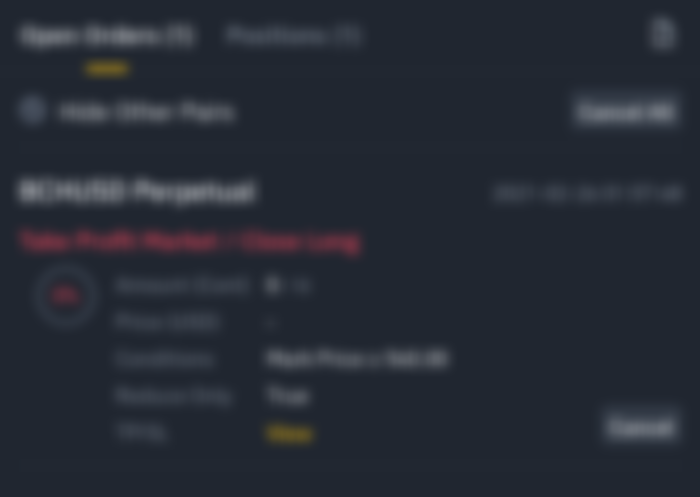 12.Positions: The active positions will show here. You can manually set your SL and TP here, and also a close position button. Adjust leverage is not recommended to increase or adjusted here.
In the example below, we can see the summary of our specific position. It is a BCHUSD pair in a cross margin with 20x leverage. Size or the contract amounting to 25 with an entry price of 449.51.
Mark price is the current price of BCH. Liquidation price will be the price of BCH wherein if ever the current price reached it, all of my funds(cross) will be lost. To avoid this, I can set a stop loss by clicking the button below.
Active Position
below.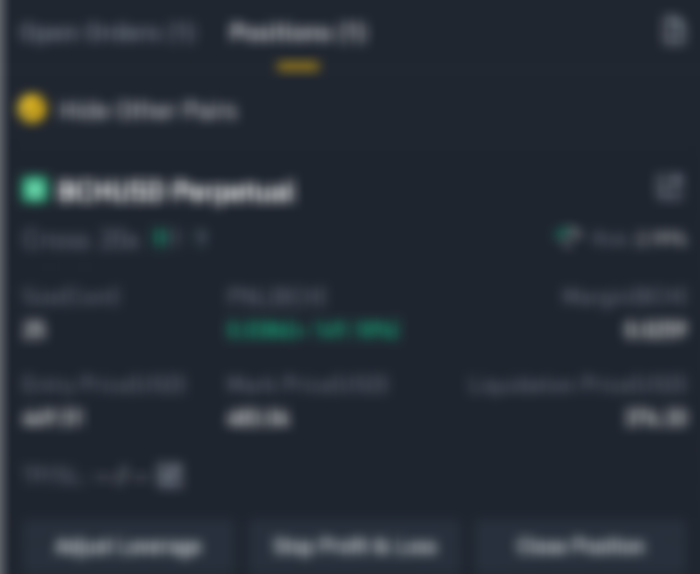 Active Position
13.History: To check your transaction history for your futures trade click here. You can also check the funding fees charged to you every 8 hours. In the example below is the realized profit from my closed positions.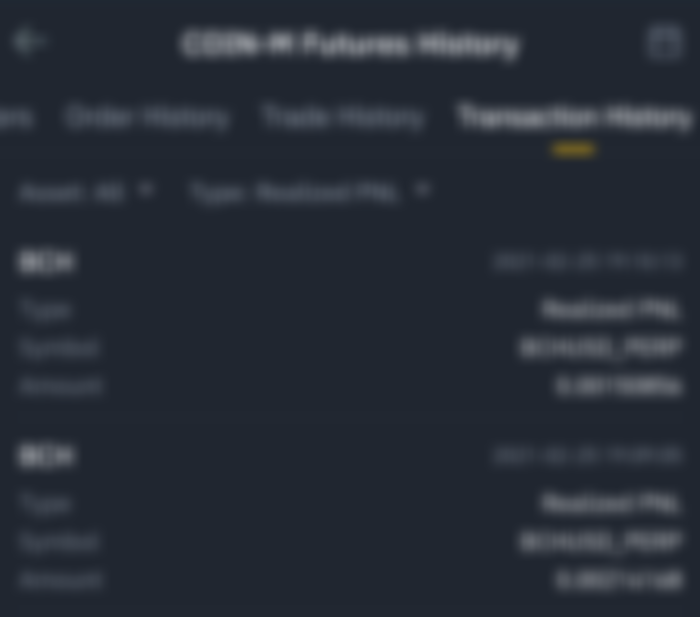 Transaction History

You can see here the bid and ask price.
Last Price: The current price of the coin.

Mark Price: This is used for margin and PNL calculations, before entering and exiting a position, this should be considered first. Both price differs from each other to avoid price manipulation.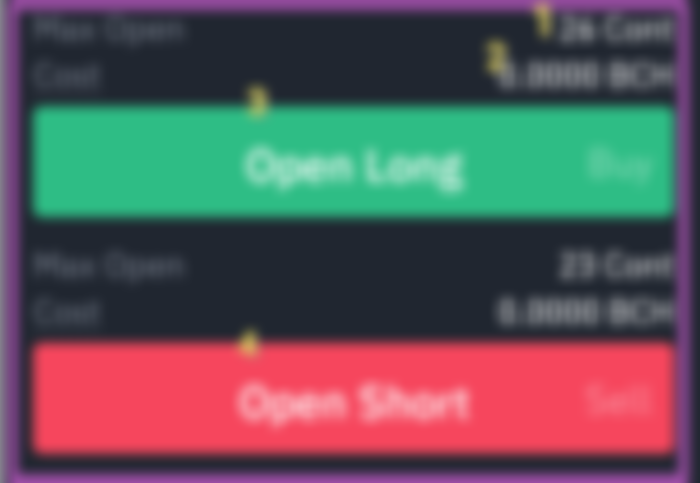 1. Maximum Contract Available: Depending on your futures balance, you will see how much contract is availabe for you to open. In this example, I have 26 contract maximum to open a long position.
2.Cost: based on the Amount you entered ( item no. 10), you will see the calculated cost that will be used in the position you are entering.
3.Open Long or Buy: If you are predicting that the price will increase, choose Long.
4.Open Short or Sell: If you're predicting the price will decrease from the entry price of your position.
---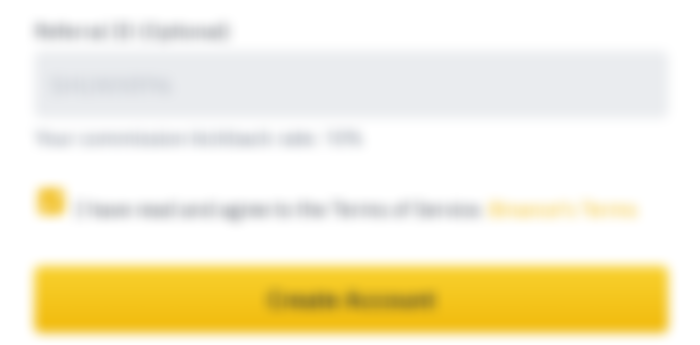 If you don't have a Binance account, you can use my referral link here and have a 10% commission kickback rate. 🥳