Overview
Cardano is the latest Proof of Stake (PoS) smart contract blockchain platform aiming to challenge Ethereum's dominance in the space. It is a product of a scientific approach to solve the most critical issues of early blockchain projects. The project spent 4+ years in development while it looked to solve latency, throughput, security, and decentralization issues that commonly plague other blockchains. Similar to ETH 2.0, the primary use cases of Cardano are staking on the network, delegating, and transferring ADA for different use cases within the Cardano network.
Cardano is unique in the fact that it was the first project "founded on peer-reviewed research and developed through evidence-based methods." It was also one of the first projects to commit to the Proof of Stake consensus protocol as well as promises a number of advanced architectural solutions, including a multi-layered network, hierarchical deterministic (HD) wallet, and a community-governed treasury.
However, Cardano's lengthy research phase is as much a weakness as it is a strength. It remains a nascent network and more of a research project in the works. Cardano's multi-year development phase allowed first-to-market Ethereum to grow its lead in the sector as well as at least a half dozen other projects to launch and gain adoption.
Academic papers and superior throughput mean nothing without users and an ecosystem. Cardano's slow progress in this area puts it at risk of being too late to market to penetrate Ethereum's lead. However, the project's timing could prove just right as the crypto market as a whole looks to be in the midst of another growth cycle, and early indicators from Cardano's token, ADA, suggest users are eager to hold and stake the token.
Cardano Strengths
Strong, well-respected team with ample financial resources. Cardano is run by three separate entities (IOHK, EMURGO, and Cardano Foundation) and also has several high profile and accomplished individual contributors like Charles Hoskinson, the founder of IOHK and one of the founders of Ethereum.
Because Cardano has been a project-in-progress for years and has recently just launched the ability for its user to stake, it has tremendous name recognition in the space while also recently vaulting to become one of the top assets by market cap.
While the overall project remains incomplete, Cardano has an extremely detailed and transparent roadmap that allows users to have insights into where ultimately the project is headed. Cardano's roadmap can be broken down into five eras, namely Byron (Foundation), Shelley (Decentralization), Goguen (Smart Contracts), Basho (Scaling), and Voltaire (Governance).
Cardano Weaknesses
Cardano is competing in a crowded space of general-purpose smart contracting Proof of Stake blockchains along with Tezos, Cosmos, Polkadot, NEAR, Solana, soon to be Ethereum 2.0, and many others.
ADA may be "overvalued" (on a relative basis compared to comparable smart contract blockchains) due to its years of research and marketing but very nascent launch and user adoption.
The separation of the settlement layer and computational layer allows users and nodes the ability to only include transactions with use cases in which they agree or are comfortable with. The flipside of this is it essentially gives nodes the ability to censor certain types of transactions with they do not morally agree, creating a potentially messy, censorship-proned blockchain based on moral subjectivity.
Important Links
Use Case
Cardano's project began development in 2015 with the goal of allowing users to trade value in a decentralized fashion on a platform which allows for smart contracts in a more scalable format than previous blockchains have been able to deliver. The primary use case for ADA is as a digital currency within the Cardano blockchain ecosystem. Cardano sees itself as a "third-generation" protocol with a Proof of Stake consensus algorithm, improving on Bitcoin and Ethereum as the first and second generations, respectively.
Technology
Cardano is a multi-layered protocol that utilizes Proof of Stake consensus throughout the system: the CSL, where value is transferred, and the CCL, where computation takes place. The separation into the settlement layer (CSL) and computation layer (CCL) was created to increase the efficiency, scalability, and to increase the network's capacity for protocol changes and soft fork implementations. By separating the layers, the network can theoretically optimize each without compromise as argued in other current blockchains. However, both layers still use the PoS consensus protocol, Ouroboros. 
Cardano is developed in Haskell and its smart contracts are created in Simona and Plutus, programming languages that allow for building stricter contracts. Simon and Plutus are simple scripting languages that can handle the range of common transaction types for the CSL. The main advantage of developing simple scripting languages is that they can be understood by more people, thus allowing widespread peer review and increased security.
The CSL is the value ledger of the network and its primary purpose is to account for the value of transactions. The CCL is responsible for the "reasons" behind the values and will enable users to implement conditional activities, support, comply with regulation requirements, and offer the use of a virtual machine. Cardano 1.5.0 Mainnet was released in March 2019, allowing for support of Ourobouros, which uses Byzantine Fault Tolerant-Proof of Stake (BFT-PoS). 
In a sense, the network aims to separate value from computation. Cardano developers believe that by making these layers separate, it permits more flexibility in the design, use, privacy, and execution of smart contracts.
Economics
Development on Cardano began in 2015 and a token presale occurred in Asia from September 2015 to January 2017, raising $62 million. A total of 26 billion tokens were sold at US $0.0024 each. Public trading of the tokens began on October 1st, 2017. 
The three entities supporting Cardano's development received 5.2 billion ADA following the mining of Cardano's genesis block. Their allocation was as follows:
2.46 billion ADA were allocated to IOHK and are held under the following vesting strategy:

⅓ IOHK's ADA holdings were immediately available to IOHK. 
⅓ was made available on June 1st, 2018. 
⅓ was made available on June 1st, 2019

2.07 billion ADA were allocated to EMURGO, a developer company 
0.648 billion ADA were allocated to the Cardano Foundation
ADA tokens have a capped supply of 45 billion. The current ADA supply is ~31 billion, leaving a remaining 14 billion for network incentives; 13.88 billion of which will be issued through staking rewards.
The trading volume of ADA tokens is roughly $100 million in any given 24 hour time span. The average daily volume  oscillates between 4% – 5% of Bitcoin or Ethereum price action, assuming no specific positive or negative news influences the price of ADA tokens. $100,000 worth of the tokens were also burned in transaction fees.
As of Q1 2021, there are currently ~1800 active pools with 23 billion ADA being staked. This represents ~72% of the circulating supply. At US$19.57 billion notional, the total value being staked on ADA ranks first among all staking coins. ADA fairs well in other categories when compared to other staking chains, too (image below).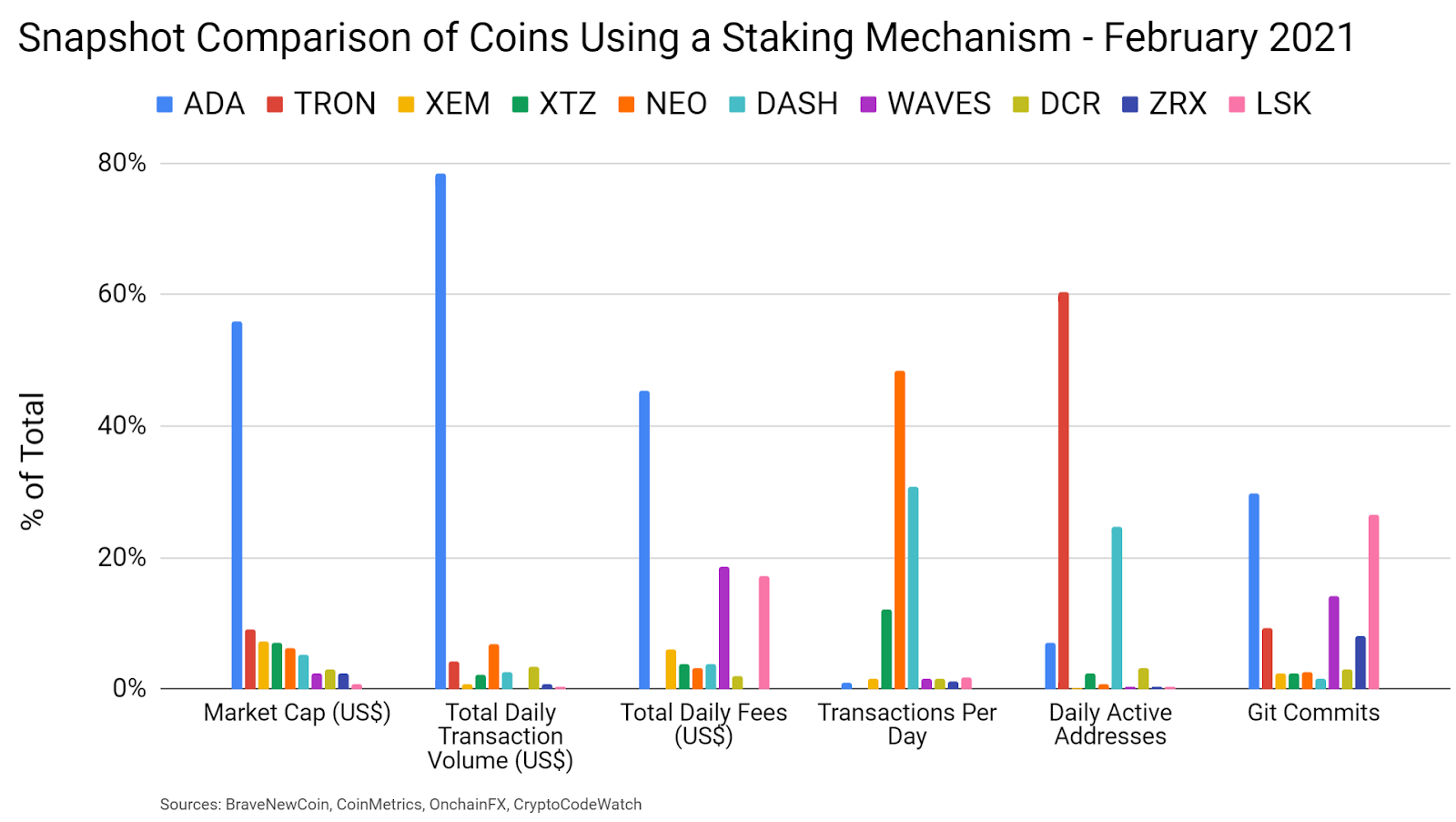 Figure 1. ADA's market cap trumps other PoS coins while lags in other onchain metrics.